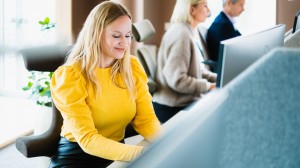 Make a difference for others - and yourself
For more than 200 years, we have engaged with our community, our customers and solutions that benefit the planet. We are a diverse and innovative bunch, and are always looking for more talents who want to make a difference.
Working at Gjensidige
We are more than what we seem to be at work. It is just as important to have an employer who understands your needs as a human, as it is to have a workplace where you are challenged professionally. With us, there is room to develop at work, and unfold after work.
Our benefits
We believe that a healthy balance between work and life is an important prerequisite for performing at our best. That is one of the reasons for why we offer several social activities, resorts and discounts available to our employees.
Where in Scandinavia would you like to work?
Get to know the opportunities at Gjensidige on our various carreer pages.