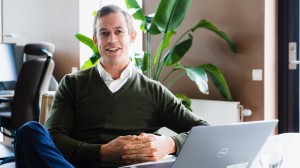 Corporate governance
We depend on trust from our surroundings to fulfil our social mission. A holistic understanding of risk with clear policies and guidelines is essential to build trust.
How we organise our sustainability work
Gjensidige has a well-defined framework in which clear responsibilities have been established between the Board of Directors, the CEO and the organisation in general. A Sustainability Council has also been established to act as advisor to Group management and ensure consistent management of climate and natural risk in the Group.
Climate and nature risk are integrated into Gjensidige's corporate governance. The risk of weather-related events has always been integrated into pricing models and capital management. Climate risk affects several areas, and Gjensidige is directly exposed in both the insurance portfolio and the investment portfolio. In the investment portfolio, transition risk is considered to be greatest. In a broader and more long-term perspective, climate risk may also affect insurance, financial, operational, business and strategic risk.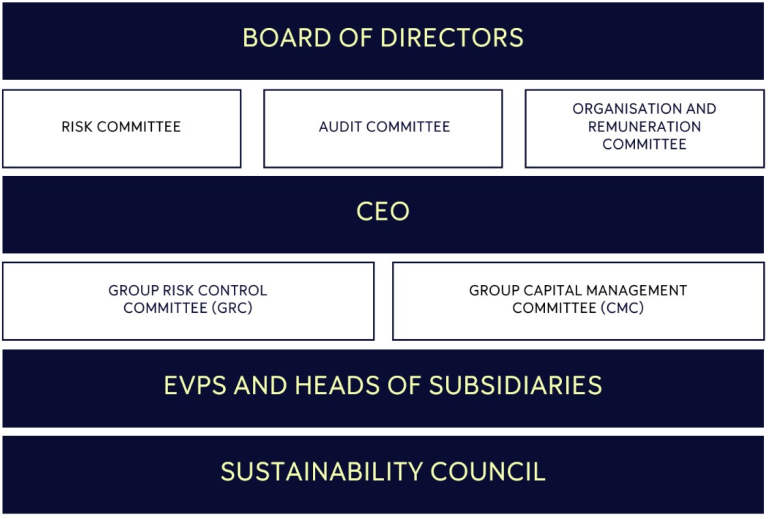 How we follow up on sustainability risk
The board reviews climate- and nature-related issues as part of its corporate strategy. A separate sustainability strategy has been drawn up with specification of how the goals are to be achieved. Climate risk is also integrated into a separate solvency analysis (ORSA) that is presented to the board, with an assessment of capital requirements five years ahead.
The individual core areas are responsible for following up climate and nature risk with relevant measures. In order to monitor the status of measures, a quarterly sustainability report is prepared based on input from those responsible in the core areas. The Sustainability Council and Group Management receive the Sustainability Report quarterly, and the Board is informed of the status. The Chief Sustainability Officer convenes meetings with the Sustainability Council at least quarterly, and otherwise as needed.
Risk management and control
Climate and nature changes affect Gjensidige's core business through increased physical risk, transition risk and liability risk. There is now increased attention to nature risks, including how natural areas are used and how pressures on biodiversity can be reduced.

Through the forthcoming framework for nature risk reporting, nature-related financial assessments (TNFDs), and forthcoming environmental and nature targets in the EU taxonomy, the financial industry has been given a clear role in helping to reduce nature risk.

For many years, Gjensidige has taken loss prevention measures into account when pricing insurance. Damage prevention measures are also important to reduce the climate and nature footprint. We have a number of measures to reduce the climate and nature footprint of substitutes, not least by reducing waste and material use. We regard reduced material use and recycling as key measures to reduce extraction of natural resources, and thereby reduce natural risk. We will also clarify our work on nature risk and will further develop our reporting of our overall climate and nature footprint, so that we meet both the TCFD's requirements and the forthcoming requirements from the TNFD when these have been finally established. We will help ensure that we, our partners, customers and companies we invest in work to achieve the climate goals of the Paris Agreement while reducing natural risk.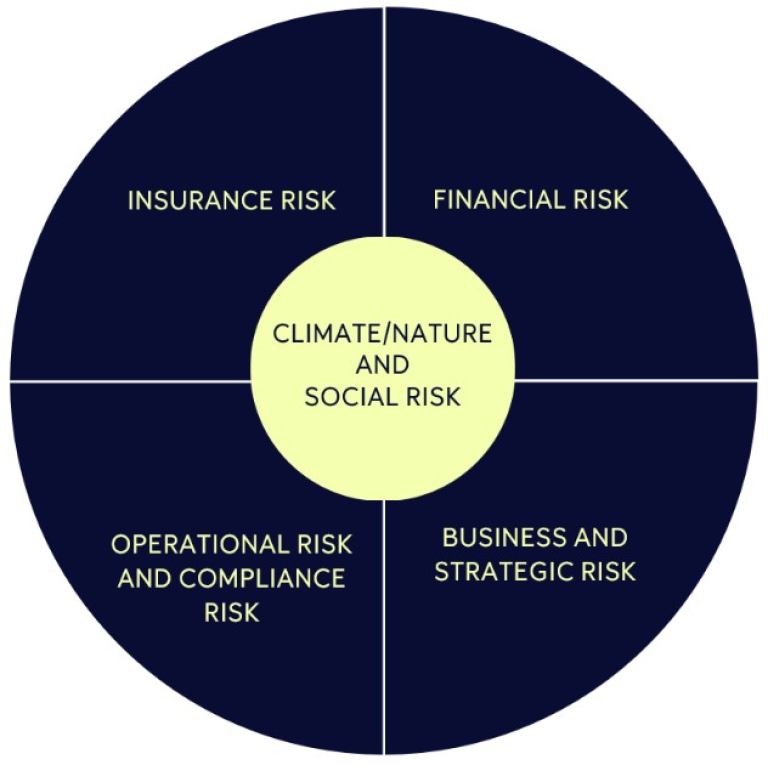 Emerging risks
The risk landscape is complex and constantly changing. New and emerging risks typically develop over time, often as a result of changes in climate, political and social conditions and/or technological innovations.

The main purpose of the analysis is to identify and monitor these types of possible risks and consequences these may have for the company, so that necessary measures and adjustments can be implemented at an early stage. Examples of emerging risks that may affect us are climate change, exposure to cyber threats, increased use of digital currency and nanotechnology.

We have established a holistic approach to emerging risks as part of our risk management framework. We identify and analyse a wide range of new and emerging risks and assess possible impacts on the company. Risks that are considered to be significant and/or where we have a limited knowledge base are prioritised and analysed in more detail. In 2022, the areas of mental health and the loss of critical infrastructure were selected for further analysis.
| TECHNOLOGY | ENVIRONMENT | SOCIAL/CUSTOMER BEHAVIOR | ECONOMIC/POLITICAL/REGULATORY |
| --- | --- | --- | --- |
| Cyber threats | Plastics and microplastics | Transition risk (climate) | Supply chain disruptions |
| Nanotechnology | Physical risk (climate) | Sharing economy | Collective Action Lawsuits |
| Autonomous machines | Genetic engineering | Mental health | Debt increase in society |
| Digital currency | Lack of resources | Socioeconomic inequalities | Geopolitical conflicts |
| Quantum processing | Biodiversity | | |
| Loss of critical infrastructure | | | |
Opportunities and threats
We believe that climate and nature risks will have a broad impact and will affect the economy in many areas in all the countries in which we operate. This will affect our stakeholders and their need for products, but the climate and nature risks will be different for the individual products and risk types in terms of both time aspect and scope. Climate change and loss of nature will provide both new threats and opportunities in the short, medium and long term. The greatest uncertainty lies in the transition risk, because it lies ahead of time and it is difficult to foresee the consequences of technological developments, regulations and consumer behaviour.

Climate change and expected new requirements for considerations of nature will affect the entire value chain and the choice of methods and materials in damage settlement. It will also affect how we will work with injury prevention measures in the future. Several initiatives have been initiated that will contribute to increased recycling and contribute to the circular economy. We are also working on measures to see how we can become the customer's problem solver in this area. The investment portfolio is considered to be most exposed to transition risk. An important part of the climate strategy is therefore to increase knowledge and expertise to understand climate-related threats and opportunities in order to help our stakeholders with a good understanding of economic risk going forward.

For a more detailed description of the risks and how we work to reduce risk and seize opportunities, see our annual report, page 107.