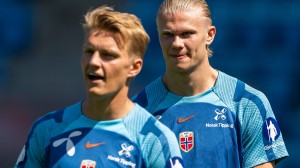 Sponsorship
Gjensidige is a proud sports sponsor in Norway, Sweden and Denmark. Through our sponsorships we aim to showcase the joy and many positive aspects of playing sports.
Inner pride
Our sponsorships ensure valuable profiling and creates positive associations with the company. It is an important tool for building culture internally and pride among our employees.
We hope to motivate as many people as possible to be physically active. Our sponsorships in sports contribute towards associating Gjensidige with good role models and a healthy lifestyle, which is an important part of our strategy.
We value recreational sports just as much as professional leagues, and as a major company, we wish to contribute at a broader level within society. We have therefore established several different sponsorship projects for children and youth from 9 - 17 years. The projects focus on social sustainability, through our work with mental health and inclusion.
In addition to our sponsorships in Scandinavia, Gjensidige in Norway also sponsor the social sector, as well as the culture sector.