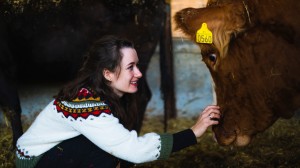 The link between general insurance and sustainability
Gjensidige has its roots in the countryside, and agriculture has always been a central part of our portfolio. Our approach to sustainability for insurance can therefore be compared to how you run a farm: You must hand over the farm to the next generation in a better condition than when it was taken over.
We think holistically about using our knowledge and insight to help customers and society at large to avoid loss. In this way, we contribute to a safer society. We make a difference by reducing the climate footprint related to material consumption in claims settlements and take social responsibility by making demands on our suppliers. We also make a difference by investing in those companies that contribute positively to the Paris Agreement's 1.5 degree goal, and follow up that the companies also comply with the UN's 10 global principles for human and labor rights, the environmental protection principle and anti-corruption. Gjensidige must lead the way, and we must create safety in ever new ways.

Throughout more than 200 years of history, Gjensidige has made sure to create security for our customers by securing life, health and values ​​in a sustainable way. We have contributed with loss prevention measures, and help when loss has occurred. Our experience and expertise benefits the entire community.
The role of general insurance
The ability to understand, manage and carry risk for customers is our core business. We also share our knowledge with the authorities and the rest of society, in order to contribute to a safer and more climate-resilient society.

Insurance is about understanding, avoiding, reducing and distributing risk. We are concerned with understanding societal developments and being relevant in our customers' lives. Possible consequences of climate and environmental challenges, demographic changes and changing health needs are examples of areas we explore. Size, product composition and geographical presence allow us to diversify such risks. Reinsurance means that we stand together with others when major damages occur. This is how we create security throughout the value chain.

By helping to avoid loss, we contribute to a more sustainable society. Fewer material damages mean that the use of resources and the climate footprint are reduced. At the same time, we must show social responsibility when loss are compensated. In this way, we work for a triple bottom line: environmental, social and economic.
Our business model
Gjensidige has an integrated business model where direct contact with our customers is an essential element. Sustainability is increasingly built into the entire value chain, from product development to compensation settlement, and follows the UN's principles for sustainable insurance. The business is carried out within the framework of our strategy, ethical guidelines (code-of-conduct), laws and regulations, and shall create value for all our stakeholders.
Strategy, ethical business operations and compliance with laws and regulations: In the short term, we create value for our stakeholders by having a close dialogue with customers and understanding their need for financial security.

In the medium term, it is important that we understand how the customers' needs develop in line with changing societal developments, such as the age composition of the population, urbanisation, technological development and the green shift. Our business model will be adapted to these trends by continuously assessing the customers' needs.

Our ambition is to increasingly be the customers' problem solver, and in the long term to become their security partner. Our business model will continue to contribute to creating a safer society.

Risk management: This is the foundation of our business. Climate risk is already a central part of risk management, both in terms of pricing and understanding how customers and society can otherwise adapt to a changing climate.

Product and service development: This has a central role in incorporating sustainability into existing products and solutions, and developing new products that meet tomorrow's needs. Injury prevention measures are central to the group's strategy. The role of problem solver will entail stronger incentives for damage prevention in all products. We will increasingly give customers sustainable choices.

Distribution/sales: We want to link customers more closely to us through relevant advice and solutions, particularly when it comes to damage prevention. We will move from a transaction-based relationship via an advisory relationship to a partnership with our customers. Sustainable advice and choices are central to our customer dialogue and to our products and services going forward.

Claims processing: Processing claims is the hour of truth in insurance. We will compensate damages in a more sustainable way by reducing waste, material consumption and ensuring that human and worker rights are safeguarded in interaction with customers and our suppliers.

Investments: We are a large capital manager by Norwegian standards, and we have the power to influence external managers. In addition to climate emissions, we make strict demands on human rights, labor rights and other social conditions. We adhere to internationally recognized norms such as the UN's global compact principles, the UN's principles for sustainable insurance and the UN's principles for responsible investment.